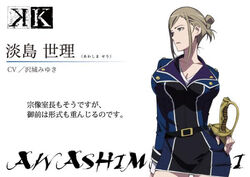 Appearance
Edit
Seri is a young woman of average height with shoulder-length, wavy blonde hair and blue eyes.Seri also has a curvaceous figure and large breasts.
When at work, she usually pushes her bangs to the left side of her face, aside from two locks that fall freely on both her left and right. Seri also ties her hair into two buns on the back of her head, with several loose strands flying out. Both buns are connected by a blue and white tiara-like hair clip. Seri additionally has long, feminine eyelashes.Elsewhere, Seri generally lets her hair loose.
As a Clansman hailing from Scepter 4, Seri wears their signature blue uniform, though hers is a more form-fitting variation of the outfit. It consists of a white shirt tucked underneath a closed, blue overcoat with prominent black and gold-colored lining. Seri also wears a dark blue mini dress underneath that just barely covers her buttocks. She has a pair of thigh-high, low-heeled black boots with metallic plates attached to the nose and end.
When out of uniform, Seri's attire is much more elaborate and girlish. She wears a flowing white mini-dress with a black sash around her waist, white stockings, and white high heels. Seri often brings along a white coat with fur ends on the sleeves with her. She also decorates herself with pearl accessories and visible makeup.
Personality
Edit
She is a very serious, dignified, calm and collected person. Seri has a passive nature and tends to avoid conflict if possible, negotiation being her most preferred solution to her problems.
When she is not at work, her personality drastically loosens up.[2]
Seri appears to have an unusual preference for red bean paste, having multiple scoops in her alcoholic drinks or daytime snacks.[2][4]
Background
Edit
There is not much known about her, only that she is an old friend Kusanagi (the bartender and clansman of HOMRA).
Seri has an unusual fondness for red bean paste (anko), pairing it with anything and everything. From alcohol, to cake, and even by itself she eats it.
"Warden Munakata is, as well, but I am also very traditional."