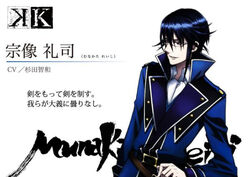 Apperence 
Edit
Munakata is a tall, muscular young man with short dark blue hair and violet eyes. He wears frameless, rectangular-shaped glasses.
As the King of Scepter 4 Munakata's outfit is quite similar to the standard uniform. He wears a high collared, long-sleeved dark blue trench coat left unzipped from the waist down; around it, there is a black belt with a gold-colored buckle strapping the two pieces of clothing together. Underneath his intricate coat, Munakata wears a white shirt with an upturned collar, dark blue pants, and knee-high black boots with silver metal frames.
==Background== yo
Su seiyu es Sugita Tomokazu.
Edit
"Nosotros avanzaremos con la espada en la mano. Para nuestra causa es puro! "
Edit