Wiki created May 24, 2012‎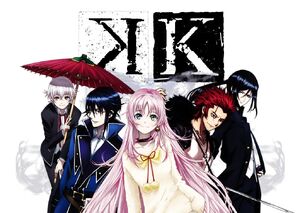 WELCOME TO THE PROJECT [ K ] WIKI
Edit
「K – Project」
Official website (Japanese Version): [ K Official Site (Japan).]
Official Facebook page (English Version): [ K Official Facebook Webpage (English).]
Other Information: [ K ] aired on MBS - 4th October 2012, [ K ] aired on TBS - 5th October 2012 and [ K ] aired on Animax-Asia - 5th October 2012. [Info]
STAFFS [ K Official Facebook Webpage.]Edit
Original Work: GoRA x GoHands
Director & Character Design: Shingo Suzuki
Series Composition: GoRA
Series Director: Hiromitsu Kanazawa, Susumu Kudo
Chief Animation Director: Makoto Furuta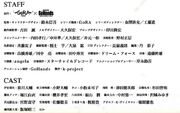 Mechanical Designer: Hiroshi Okubo
Prop Designer: Takahiro Kishida
Main Animator: Hiroshi Okubo, Jun Nakai, Kazuaki Imoto, Takayuki Uchida
Art Director: Masanobu Nomura
Color Designer: Tomoko Saito
Director of Photography: Hiroshi Oizumi, Toru Fukushi
CGI Director: Yoshinori Nagamine
Editing: Ayako Tan
Music Director: Hideo Takahashi, Ryo Nakada
CASTS - CHARACTERS (ANIME) [ K Official Facebook Webpage.]Edit
Isana Yashiro: Daisuke Namikawa
Yatogami Kuroh: Daisuke Ono
Neko: Mikako Komatsu
Suoh Mikoto: Kenjiro Tsuda
Munakata Reisi: Tomokazu Sugita
Kushina Anna: Yui Horie
Kusanagi Izumo: Takahiro Sakurai
Yata Misaki: Jun Fukuyama
Kamamoto Rikio: Yuichi Nakamura
Awashima Seri: Miyuki Sawashiro
Fushimi Saruhiko: Mamoru Miyano
Yukizome Kukuri: Satomi Sato
Totsuka Tatara: Yuki Kaji
Adolf K. Weismann: Tetsuya Kakihara
Daikaku Kokujoji: Shozo Iiduka
and more...
CHARACTERS PROFILE
Edit
Adolf K. Weissman

Daikaku Kokujoji

Ichigen Miwa
"Knight" [Episode 1.]
"Kitten" [Episode 2.]
"Kitchen" [Episode 3.]
"Knock-on Effect" [Episode 4.]
"Knife"
"Karma"
"Key"
"Kindling"
"Knell"
"Kaleidoscope"
"Killer"
"Adolf K. Weissman"
"King"
Other wikis
Edit
Ad blocker interference detected!
Wikia is a free-to-use site that makes money from advertising. We have a modified experience for viewers using ad blockers

Wikia is not accessible if you've made further modifications. Remove the custom ad blocker rule(s) and the page will load as expected.