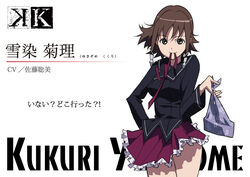 Appearance
Edit
Kukuri is a averege-sized shoulder-length, brown hair and olive-colored eyes. Her side bangs both have a white clip on the ends and a matching ring just above them. Keeping the lock of hair together.
Kukuri wears her school's standard uniform for girls. It consists of a dark blue, long-sleeved sailor fuku, deep pink skirt with white ruffles on the inside, brown thigh high stockings, and black Mary Jane's. She wears a red ribbon over her shirt and a dark blue on just on her skirt, right behind her. Kukuri also wears a golden, oval-shaped pin on her shirt, signifying that she is a student of Ashinaka High School.
Personality
Edit
Kukuri is a well mannered normal school student. In episode 3 she kindly return Kuroh's suitcase when he forgot it to go after Shiro. She is loose and pretty unbelievable at times in example when Kuro first went to find Shiro at Ashinaka High he was giving her respect by bowing but she just laughed and led him to Shiro without knowing who is he or what he needed with Shiro.
Background
Edit
She is Yashiro's friend and classmate and also a member of the student council committee. Kukuri later loses memory of meeting Shiro, Kuroh and Neko. Despite this, it seems that Kukuri did recall being friends with "someone," but could not remember Yashiro's identity. After the trio rescues Kukuri, she is manipulated by the Colorless King, and stabs Shiro in the abdomen. Whilst still being controlled, she flees from the scene. She is still able to maintain control of her personality despite being possessed. The White Fox Spirit is later freed from her body by Shiro and Kuroh. Kuroh is ordered by Shiro to take Kukuri to safety. She later wakes up in Kuroh's arms, remembering his identity along with Neko's. Though, she is unable to remember Shiro. What happens in the future to her is unknown.
"It's gone!? Where did it go? WHERE DID MY PRECIOUS VEGGIES GO??? WHICH ONE OF YOU MUTHAFUCKIN BITCHEZZ STOLE MY VEGGIES?!?! SWERG."